PROJECT WILDLIFE
Vilda djur utgör bara 4% av världens däggdjur och minst 900 arter har dött ut under de senaste fem århundradena. Project Wildlifes främsta mål är att stötta/hjälpa vida djur i kris. Men varför är det så viktigt att skydda vilda djur? En fråga som egentligen har ett enkelt svar med en mer komplicerad förklaring.
Det enkla svaret. Alla levande varelser på jorden är beroende av varandra för sin egen överlevnad. Så även om hotet mot lejon och bergsgorillors överlevnad kan kännas avlägset för oss, rubbar förlusten av en art de ekosystem som vi människor och allt levande på jorden är beroende av för (bland mycket annat) föda, färskvatten och ett stabilt klimat. Med andra ord: vilda djur behöver oss… och vi behöver vilda djur.
Den lite mer komplicerade förklaringen. Biologisk mångfald – all den variation som finns mellan och inom arter och livsmiljöer på jorden – är nyckeln till fungerande ekosystem. Och vad är då ett ekosystem? Allt levande ingår i ett ekosystem, såväl djur som växter – ett samspel som ger möjligheter till fortsatt liv. I ett ekosystem är en art beroende av en annan art för sin överlevnad. När ekosystem av någon orsak förstörs rubbas denna känsliga balans.
PLANTERA TRÄD FÖR VILDA DJUR
Förutom att trädplantering minskar CO2-halten i atmosfären – som gynnar allt liv på jorden – skapar träd livsmiljöer, färskvatten och mat för vilda djur. Träd gynnar också biologisk mångfald och ekosystemen som de vilda djuren lever i, vilket ger dem (och hela ekosystemet) bättre förutsättningar att frodas. Med vår kampanj "Plant a tree for me" kan du plantera träd i Attenborough Forest och få ett diplom med ditt favoritdjur… eller kanske ge bort det till någon som precis som du och vi – älskar djur! Klicka på ett djur och plantera träd i Attenborough Forest.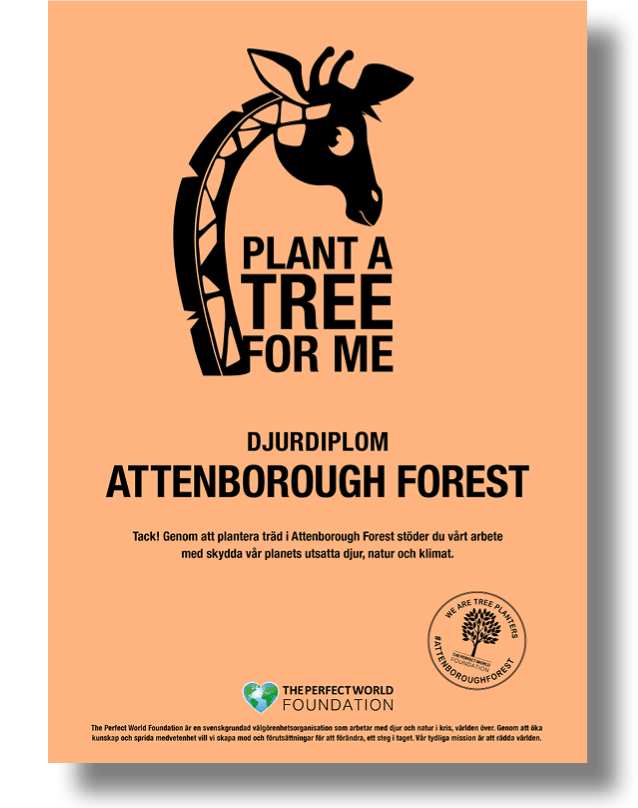 Plant-a-tree_giraff_SE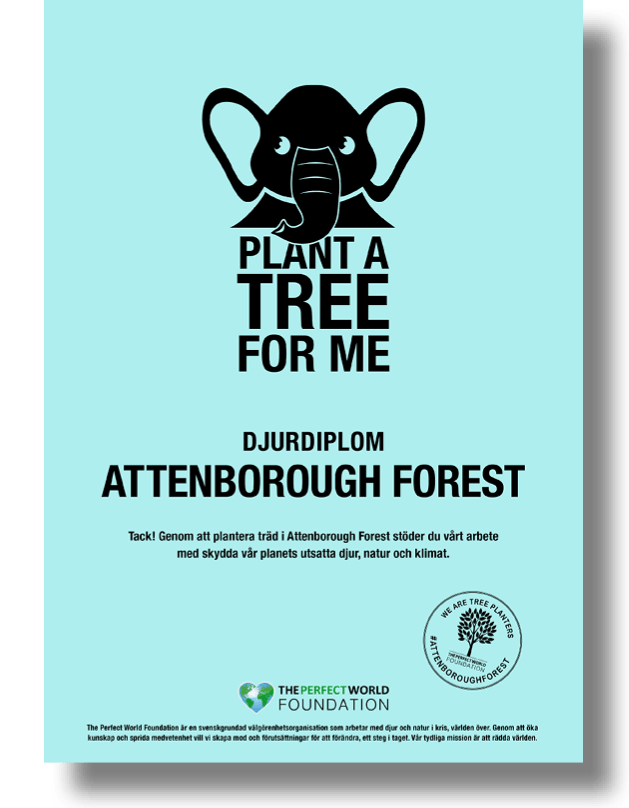 elefant-diplom
aror-plant-diplom_SE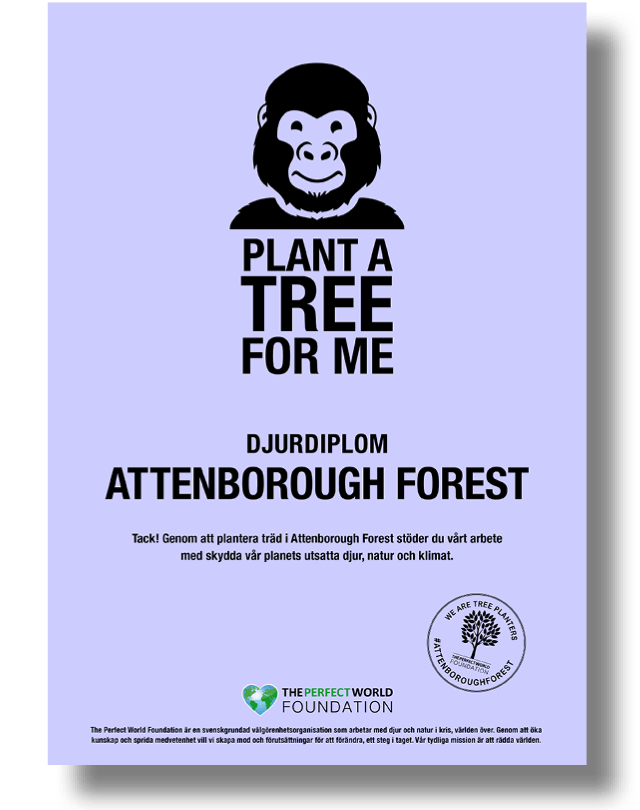 gorilla-diplom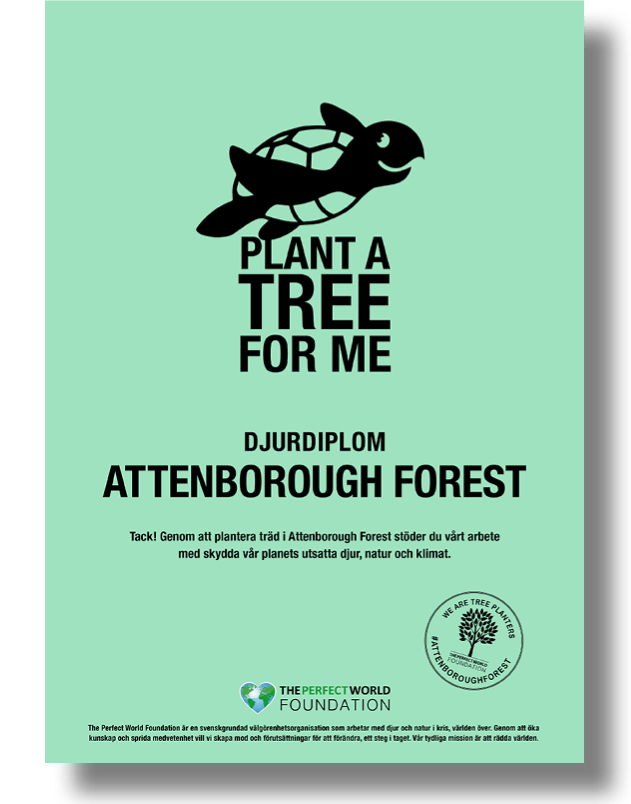 sköldpadda-diplom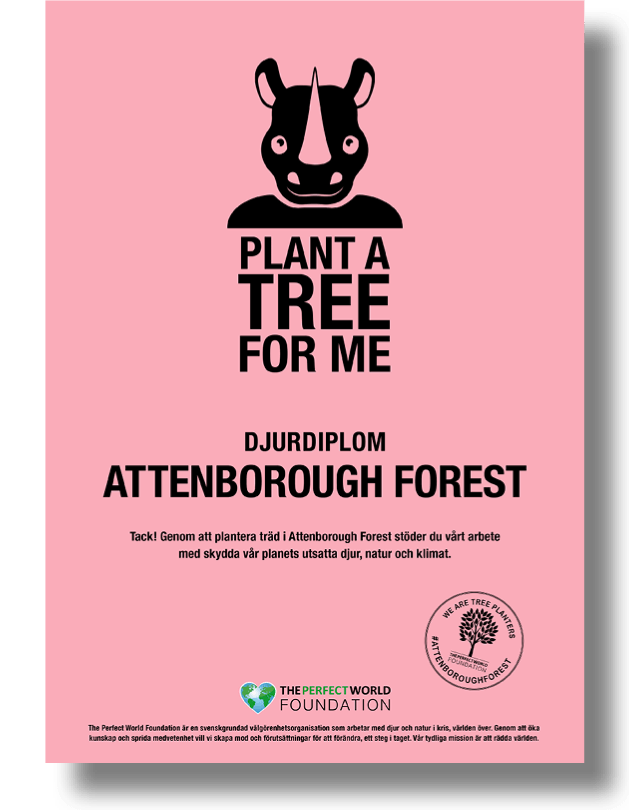 noshörning-diplom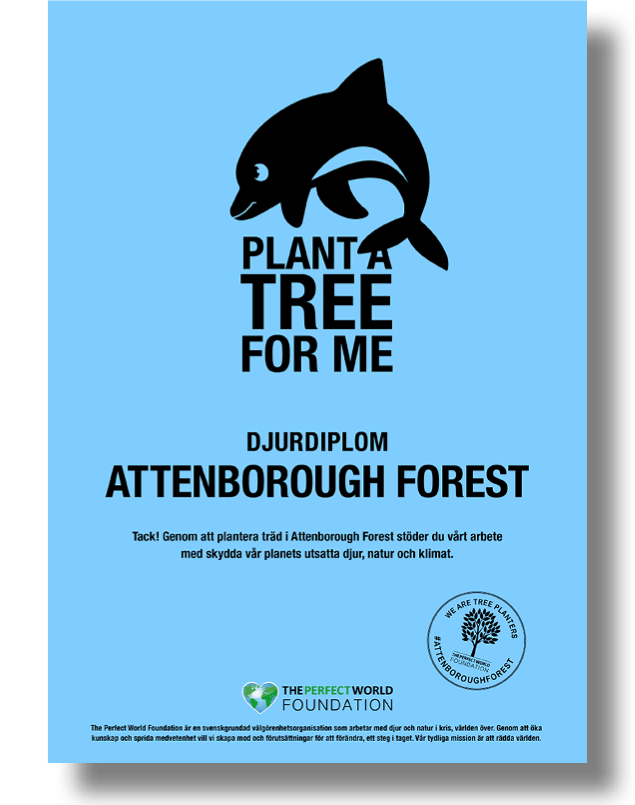 Diplom-delfin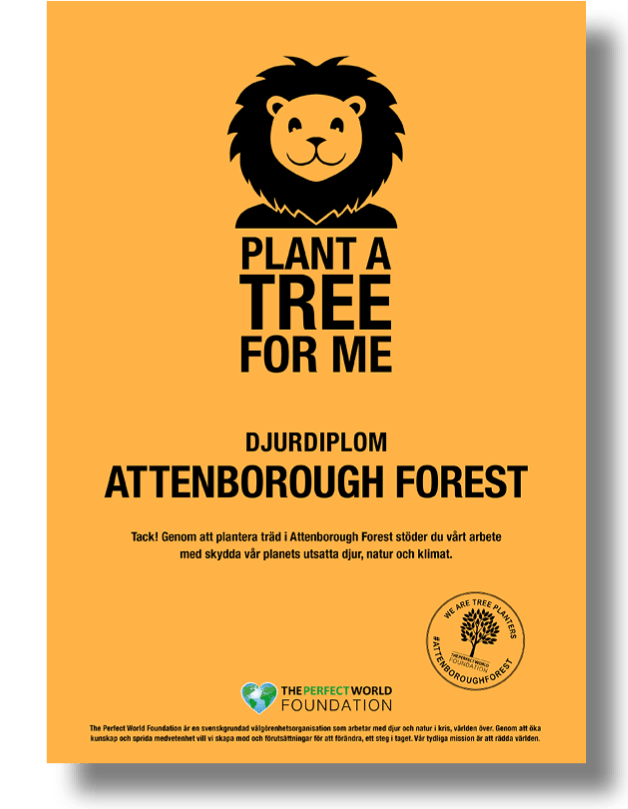 lejon-diplom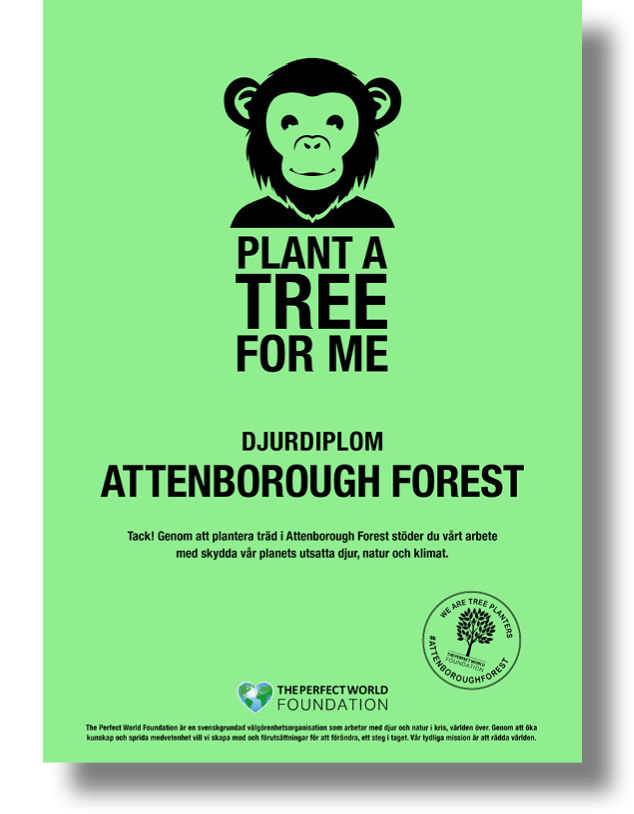 Plant-a-tree_bonobo_SE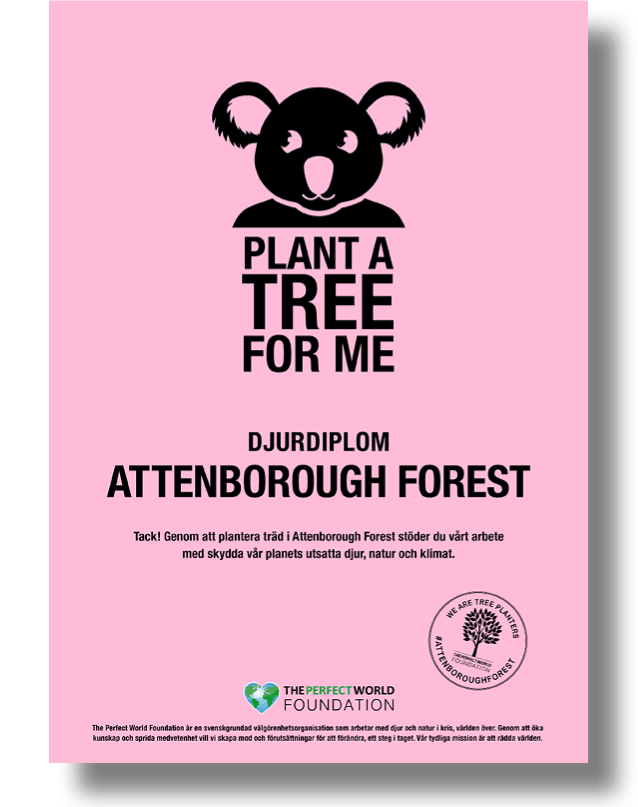 Koala-diplom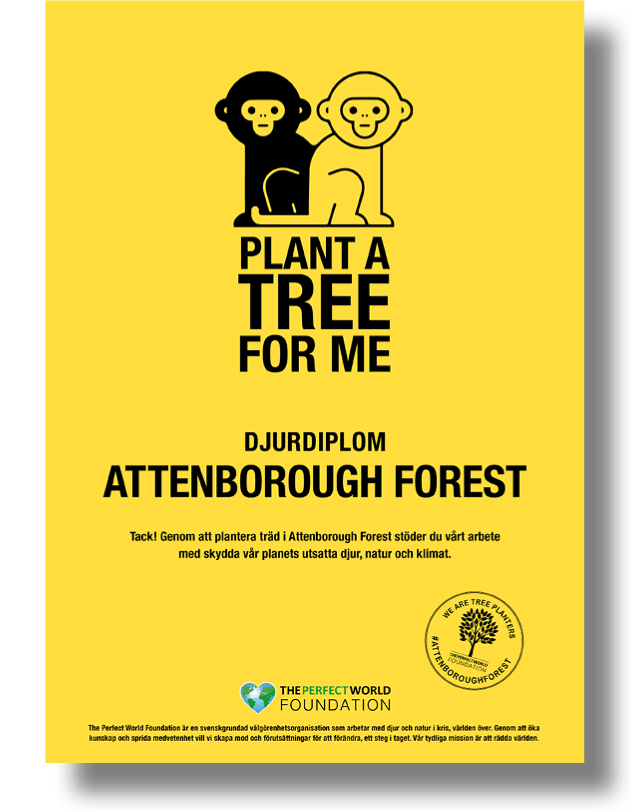 apor-diplom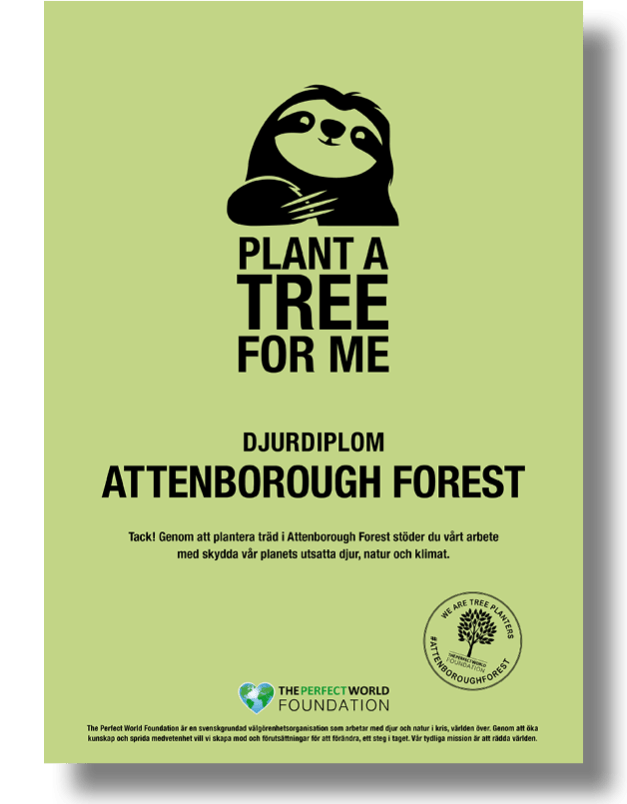 sengångare-diplom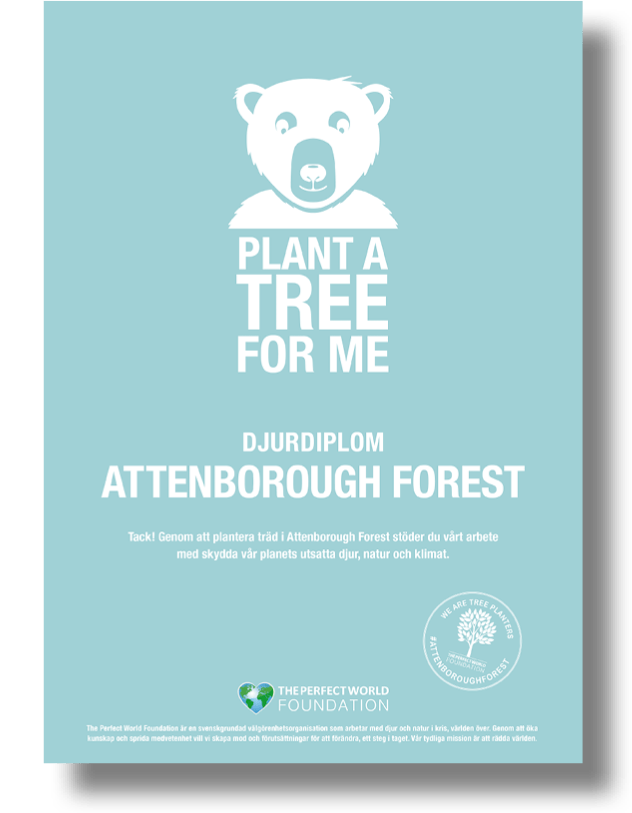 isbjörn-plant-diplom_SE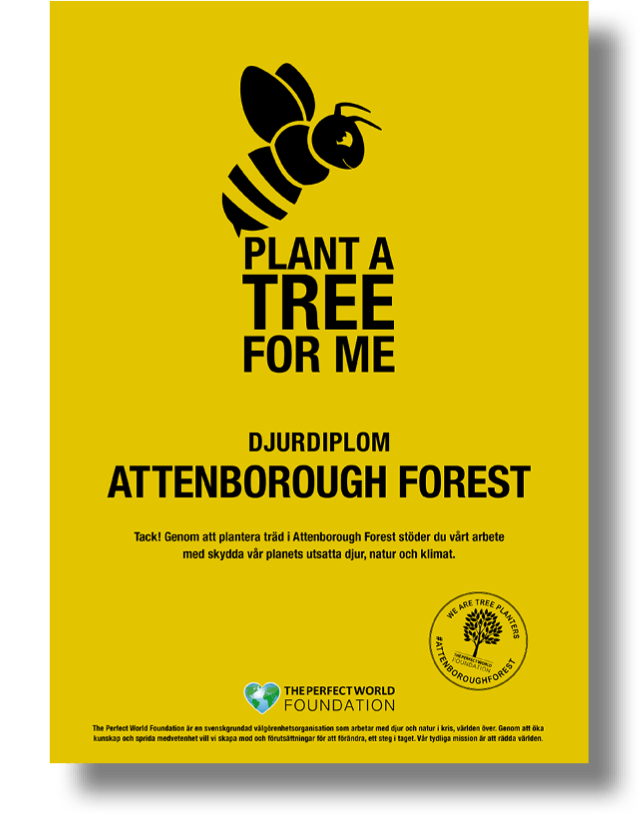 Bin-plant-diplom_SE
PROJECT WILDLIFE-SAMARBETEN
LERNBERGER STAFSING
SAVE THE POLLINATORS – S.O.S BARRIER REPAIR CREAM
Del av förtjänsten vid försäljning av Lernberg Stafsings skyddande kräm S.O.S Barrier Repair Cream går till The Perfect World Foundations projekt för att rädda pollinatörer, bland andra att ett biodlingsprojekt i Sydafrika.
AKADEMIBOKHANDELN
5 KR PER SÅLD VARA MED NATURMOTIV AV KLUM
I en kampanj för sitt designsamarbete med naturfotografen Mattias A. Klum skänkte Akademibokhandeln 5 kr oavkortat per såld produkt med motiv av Klum till The Perfect World Foundation.
KREUGER JEWELLERY
SAVE THE RHINO – SILVERARMBAND
Kreuger Jewellery har skapat silverarmbandet Footprint där alla intäkter går till stöd för The Perfect World Foundations arbete med noshörningar i kris. Vi är speciellt stolta över att Kronprinsessa Victoria bär armbandet i stöd för vårt arbete.
CHANTECAILLE
ETT LIP CRISTAL = ETT PLANTERAT TRÄD
För att stötta The Perfect Worlds arbete med att bekämpa klimatförändringarna genom global trädplantering valde det franska skönhetsvarumärket Chantecaille att planterar ett träd per sålt Lip Cristal-läppstift. För att göra kampanjen mer engagerande fick vissa läppstift ett isbjörnsmotiv. 
HELLO THERE & AVICII
SAVE THE RHINO – MOBILSPEL
Artisten Avicii tillsammans med The Perfect World Foundation och mobilspelsutvecklarna Hello There skapade ett mobilspel med förhoppning om att höja allmänhetens kunskap om noshörningarnas svåra situation i Afrika. Avicii lät göra en specialversion av sin hit "Lay me down" för spelet "Save a Rhino".
MARIA NILA
SAVE THE ELEPHANT – HÅRVÅRDSBOX
Var 15:e minut dödas en elefant i Afrika. 2016 lanserade Maria Nila kampanjen "Help us save the elephant" i stöd för The Perfect World Foundations kunskap- och insamlingskampanj "Save the Elephant". Ett fantastiskt samarbete som spred kunskap om elefanternas hotade situation och samlade in donationer, som genom The Perfect World gick till projekt i Afrika som jobbar för att skydda och bevara elefanterna.
BY BILLGREN
SAVE THE RHINO – HALSBAND SUDAN

by Billdren har designat ett noshörningshalsband med en "flygande" noshörning för att uppmärksamma utrotningshotet mot noshörningar och dela historien om hur man transporterar noshörningar med flyg till säkrare områden. Halsbandet har också döpts till "Sudan" i minne av den sista nordafrikanska trubbnoshörningshanen, som gick bort den 19 mars 2018. Halsbandet kostar 499 kr i by Billgren webbshop, varav 200 kr oavkortat går till The Perfect World Foundation och våra Save the Rhino-projekt.